Dr. Stephanie McClure, Veterinarian
Dr. McClure grew up in Delphos, Ohio where her parents were both teachers.  She graduated from the University of Findlay in 1993, with a degree in biology and environmental science.  After graduation, she worked for private industry and the state in the environmental field for a few years.  There she met her husband Mitch, a native from the state up north (despite this, she married him anyway!).  After a few years, she decided her true passion was working with animals and helping to enhance the human-animal bond.  She obtained her Doctorate of Veterinary Medicine from The Ohio State University in 2003.  Following graduation, she began working as an associate veterinarian at the hospital where she had worked part-time for 7 years.  After 5 years as an associate, Dr. McClure became a relief veterinarian and manager for Lighthouse Veterinary Services in Westerville, Ohio, an invaluable experience when it comes to being a business owner.  It also gave her a unique perspective on veterinary medicine and the veterinary community as a whole.
She and her husband have been residents of the Bexley community since 2003.  She has grown to love this unique community and all it has to offer!   When not in the clinic, she spends most of her time with her husband, Mitch and their 3 children, Kaelen, Delaney and Graeme.   When possible, the family enjoys spending time together and traveling to warmer weather and the beach!  They have a terrier mix named "Pogo," a frequent neighborhood friendly face (except to other furry critters and the mail carrier) and a guinea pig.  In her free time, she enjoys running, watching movies, and most of all relaxing!
Her professional interests include dentistry, surgery, internal medicine, and animal behavior.  She strives to provide compassionate care and a straight-forward, honest approach with a trusted and gentle touch.  She understands the importance of client communication and believes in spending time on client education and involving clients in the care of their pets as much as possible.  Dr. McClure looks forward to meeting new clients and their pets and hopes to bring a valuable service to the community!
Dr. Nicholas Villalba, Veterinarian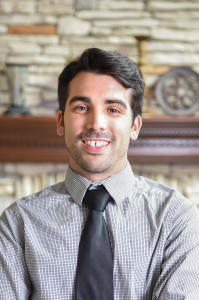 Dr. Villalba (or Dr. Nick, because it's easier to pronounce!) is from Akron, Ohio and obtained his Bachelor of Science degree from Ohio State University in 2012. In 2013, he moved to Ontario, Canada and received his Doctor of Veterinary Medicine degree from the University of Guelph in 2017. You may remember seeing him around the hospital the first few years Bexley Animal Hospital was open; he spent his first summer of veterinary school as an assistant with Dr. McClure!
In his spare time, he enjoys hiking with his wife, Michelle, and their dog, Norah. The rest of their family consists of 2 long haired cats named Putter and Niko. Dr. Villalba's other hobbies include biking, running, and cooking. He also enjoys cheering on the Cleveland Indians, Browns, and Cavaliers!
His professional interests include dermatology, internal medicine, feline medicine, and client education. He looks forward to being back in Bexley and seeing old and new clients!
MacKenzie Holt, Office Manager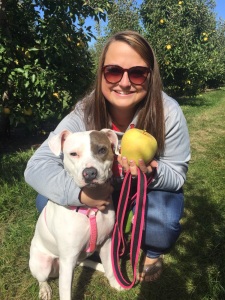 MacKenzie obtained her undergraduate degree in Business from Capital University. She has a love for all animals, especially her dog Baylor! MacKenzie grew up in London, Ohio where she was raised with an array of animals. Her love for animals landed her in 4-H, which she was a part of for 13 years. She showed cows, turkeys, pigs, rabbits, and goats.
Alice Carney, Registered Veterinary Technician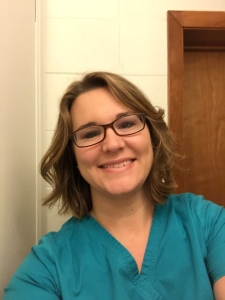 Alice was born and raised in Upper Arlington, OH and graduated from UA high school. After high school, Alice earned her Veterinary Technology degree from Columbus state in 1997; she has been working as a Registered Veterinary Technician for over 24 years! Her professional interests include dental cleanings, anesthesia, client education/relationships and patient care.
Alice is married with 3 children, Grant, Justin and Cameron. She also has 2 dogs, Percy and Larry, as well as 2 cats, Sheldon and Rigby. In her spare time, she enjoys gardening, cooking and sampling craft beers.
Skye Metz, Registered Veterinary Technician
Bio coming soon!
Molly Holt, Veterinary student/assistant
Molly grew up in London, Ohio and obtained her undergraduate degree at Capital University. She lives in Clintonville with her sister, MacKenzie, and their dog Baylor and cat named Kitty (whom she adores). She is currently a veterinary student at The Ohio State University. She was also in 4-H and showed cows, turkeys, pigs, goats, and rabbits. Molly loves to cook in her spare time.
Kelsey Bick, Veterinary assistant
Bio coming soon!
Ashley Sindelar, Veterinary assistant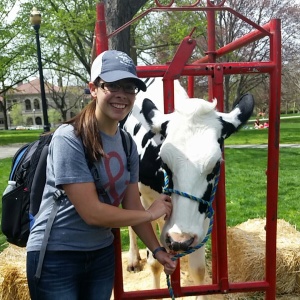 Ashley is a junior at the Ohio State University studying Animal Sciences. She plants to pursue her Doctorate in Veterinary Medicine with a special interest in mixed animal and reproductive medicine. Around the office, Ashley enjoys helping out with radiology and surgery.
In her spare time, Ashley plays soccer and dances with her dance team. She also enjoys traveling and writing.